Manchester Titans 6 – 56 Leicester Huntsmen
With only three returning players, a fresh new squad of nine players headed south for their first outing of the 2019 season. A scorching hot day in Etone was the setting for what was to become, a gruelling day at the office.
Led by defensive captain Jake Homer and team captain Charlie Evans the Titans took to the field for their first game against a strong Leicester Huntsmen team. As one of the favourites to reach the BritBowl finals the Huntsman wasted little time, and on their third play of the game took an early lead.
Looking very fresh with his 'NFL haircut, QB Darrion Banton-Wright threw ball after ball down field only to see them deflected by Leicester's strong pass defence.
Despite heavy blitz pressure from Max 'Sonic' Lee, Leicester continued to increase their lead. A late conciliation score from the Titans brought the game to a close.
Manchester Titans 40 – 66 Etone Jaguars
 Having home field advantage, the Jags looked confident from the outset. Winding runs and accurate passing soon saw Etone on the Titans 6 yard line, but with perfect coverage from Riley Clarkson, Etone couldn't break into the endzone.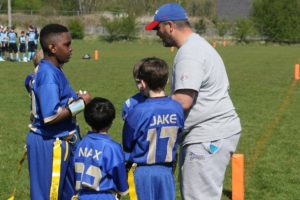 With Jack Meadows at QB, the Manchester run game moved into action. A quick handoff to Subhaan Khan saw an easy 20 yard gain, followed a 10 yard gain.
With the 'Glue' like hands of Harry King the Manchester Titans took a 6 – 0 lead.
From this point, each team seemed to score on each of their next few drives, quickly taking the score to 27 – 34.
Never a team to let their heads drop, Manchester took to the field, this time with Charlie Evans leading at the QB spot. A missile throw into the endzone, two deflections and a super quick reflex catch from Max Lee took the score to 33 – 34. A successful point after and the game was tied.
With temperatures reaching 28°C, Manchester's small squad were starting to show signs of fatigue, allowing Etone a couple of quick scores.
By the final whistle the Jags had taken the score to 40 – 66.
In a final show of great sportsmanship, the Etone Head Coach presented MVP's Max Lee and Charlie Evans with NFL books to round of a fantastic day of Titans Football.
Manchester Titans 1 – 0 Coventry Cougars
Unable to field a team, the Cougars pulled out of the tournament. This gave the Titans a 1 – 0 walk over victory.