Manchester Titans Adult Flag Team attended this year's King Bowl Tournament in Utrecht in the Netherlands, but this time the Women's Team went along as well.
Last year the Mixed/Mens Team Team finished a respectable 10th out of 32 teams and after restarting the Women's Flag Programme and winning the Opal Plate Competition, the Ladies decided to travel to their first overseas tournament.
Both teams started strongly with the Men beating Cologne Pandas 33-13 and the Women beating Dunderlange Trier 25-0. A walkover victory for the men took them to 2-0 where their would face last year's Champions, the London Smoke. In a close game, the Smoke edged out the Titans 21-13. Meanwhile the Women had a fantastic 20-19 come from behind win against the University of Nottingham Gold, with Keely Edmonds scoring a last second TD. They then beat the hosts, Utrecht Dominators 6-0 before losing 13-14 to the Moscow Lynx and 6-13 to Waldorf Wanderers.
The Men bounced back with wins over the Rebel Dukes (13-6), Rotterdam Anacondas (38-12), Wiesbaden Phantoms (21-6) to finish the day 5-1.
With both teams facing an early start, any late night shenanigans were put on hold, and the Women responded with 2 more wins – 18-0 over the UofN Green and 13-0 over the Rotterdam Rebels to finish 4th in the Group. The Men were ruthless efficient in a 31-0 victory over the Braunschweig Badgers to finish 2nd in the group.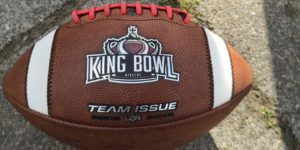 Both teams then faced Walldorf Wanderers in the playoffs, the men losing, but the women winning 13-6 to make the final.
The Mens team then defeated the London Stormers and Valby Royals to finished 5th overall.
Meanwhile the Titans Women took on the Utrecht Dominators in the final, who had suffered some injuries along the way and had picked up some friends for the final. A very strong Dominators/Vikings/Dukes/Monarchs team beat the Titans 25-0 in the final, but the team were very proud of how they had done and very happy overall.
Special mention to the Titans Defensive Co-ordinator Leigh Kerrigan helped scheme their way to 4 Shutouts in the Women's Tournament (and 2 more in the Men's Tournament).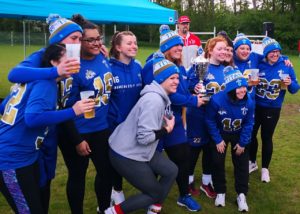 Women's MVPs were Keely Edmonds on Offense and Louise Moran on Defense.
Men's MVPs were Ben Nuttall for Offense & Reece Donlan for Defense.
All the players who attended enjoyed the event and are looking forward to 2020!