Throughout the Season, Flag Football World have been keeping track of the games played throughout the BAFA Adult Flag League.  They also have been recording the statistics from those games and due to the success of the Titans Adult Flag Team this season, several members of our squad are highly placed in the rankings.
Quarterback Alan Mead finished as the second ranked QB in the MEC, behind Sheffield's Dean Whittingslow. Mead, who some say has complete mastery of the force, threw 70 TDs and was only sacked 3 times all season.
https://flagfootballworld.com/mec-qb-of-the-year-the-winner
In the MEC Offensive Player of the Year Award, David McInally finished in 3 position, with 24 TDs and 10 XP. David joined the Titans from East Kilbride Pirates and also plays for the Titans Adult Contact Team. A Safety in contact, David's speed, sure hands and quick moves made him a dangerous weapon at Receiver for the Titans this year, where he also an interception on defense which he returned for another touchdown.   David has also been selected for the Great Britain Men's Flag team for the upcoming European Championships in Denmark!
Narrowly missing out on the Top 10 list was Titans Centre Jay Pitchford, whose 14 TDs, and 19 XPs gave him 103 points for the season. https://flagfootballworld.com/mec-offensive-player-of-the-year-the-winner
In the MEC Defensive Player of the Year, Titans Head of Flag, Rick McEwen was tied for 3rd place. Rick had 3 sacks including a safety, plus he recorded 3 interceptions and returned all of them of touchdowns! All this, despite playing the majority of the season on Offense where he also recorded 4 receiving TDs, 2 Rushing TDs and even threw a TD pass, along with 8 XPs.
Rounding out the Top 10 was Jordan Parker, who recorded 5 interceptions, 2 sacks, 1 safety and 1 defensive TD. https://flagfootballworld.com/mec-defensive-player-of-the-year-the-winner
It was a fitting tribute to the team and how they played, that every single member of the Adult Flag team recorded a statistic as they won the MEC Central Division and head up to Glasgow to play in the Northern Playoffs on August 5th.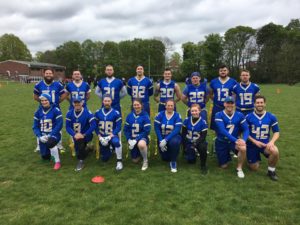 Pictures courtesy of James Brewerton