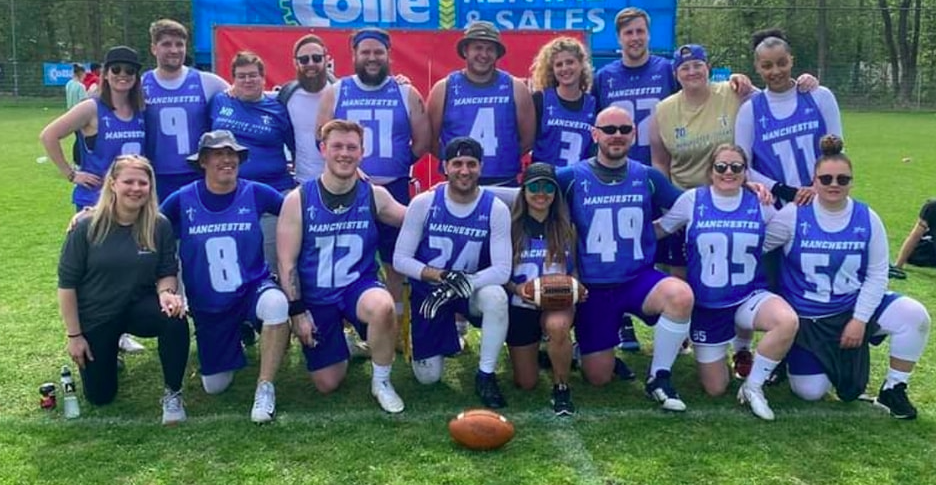 After a 2 year absence due to Covid, the Manchester Titans Mixed and Women's Flag Team returned to Utrecht in the Netherlands to compete in the King Bowl Tournament. In 2019 the Women's Team finished 2nd after some questionable additions to the winning home team's squad for the final, whilst the Mixed team finished 5th.
Expectations were lower this year, due to the size and experience of the squads travelling.
Without their star QB Sarah Ul-Haq and several other key players, the Women's team struggled initially, losing their first 4 games. However they did narrowly lose 18-13 to the eventual Champions Domzale Tigers, and won their last game of the Saturday 13-0 over the University of Nottingham Green.
They rode this success into the playoffs on Sunday where they beat U of N Gold 12-0, U of N Green again 30-0 and finally revenge over Utrecht Dominators with a 28-6 win for a respectable 9th place.
Meanwhile, the Mixed Team opened up with 4 straight wins before losing a close game to the SWC Dragons 18-15. The last game of the day was against the Hague Hygenas and the Titans lost 33-19 to finish 2nd in the division.
The opening game on Sunday was against the Dunfermline Kings, and with the scores tied 14-14 at the half, the Titans blew away the Kings in the 2nd half to win 31-14 and guarantee a top 4 finish. However they ran into the defending champion London Smoke who saw off the Titans challenge. A lacklustre performance in the Bronze place game saw the Titans finish 4th, whilst the Smoke went on to defeat the Cardiff Hurricanes in the all-British Final.
In fact there were 4 British teams finishing in the top 5 of a very well-run tournament.
The Titans will be back in 2023 to "Claim the Crown".